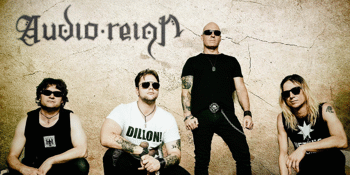 Audio Reign
with Submerge and Rosemont
Crown & Anchor Hotel (Adelaide, SA)
Saturday, 16 November 2019 8:30 pm
Audio Reign are bringing back their explosive live heavy rock show to the iconic Crown & Anchor Hotel in Adelaide. Their last Adelaide headline performance absolutely went off to a very packed and vocal crowd and this next show is set to be no exception!
They will be joined by very special guests "Submerge" and "Rosemont" on this awesome night of heaviness!
If you missed Audio Reign last time, you will not want to miss this show!
Be sure to get your tickets early!
Following on from their breakthrough single Find Your Way, Audio Reign's debut self-titled album offers a proper taste of what they are capable of: a monster storm of huge, driving guitars, soaring melodic vocals and an unstoppable rhythm section.
Hard-hitting and relentless, Audio Reign set a musical and lyrical tone that is abundant throughout their album: raw emotion and undiluted power; delivered by the irreplaceable legion of frontman/guitarist Jake Fleming, Alek Dyrynda (lead guitar), Ash Lovett (bass) and Dieter Schoell (drums).
Seasoned performers since forming in 2011, this line-up is adept and versatile – able to switch from high octane tracks like Betrayal to intense slow-burners like the emotionally-charged Senses. With an incredible live show, a loyal and growing fanbase, and a repertoire of their most electrifying material to date, there is so much potential coursing through Audio Reign that their future could very well be to preside at the top echelon of Australian rock.