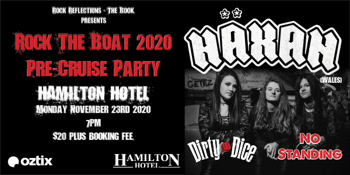 Presented by Rock Reflections - The Book
CANCELLED - Rock the Boat 2020 Pre-Cruise Party
Hamilton Hotel (Hamilton, QLD)
Monday, 23 November 2020 7:00 PM
The night before "Rock The Boat 2020" sails from Brisbane for the first time, there is only one place to be to catch up with fellow cruisers, friends new and old, and that's The Hammo. Live entertainment for the night comes from 3 bands who always get the party started.
Headlining the event are international act "Haxan" – a Welsh power trio who were firm favourites on Rock The Boat 2018. Häxan are Sam Bolderson, (Vox/Guitar), Harriet Wadeson, (Bass), and Jess Hartley, (Drums). Based in South Wales, and with influences such as Suzi Quatro, AC/DC and Led Zeppelin. Their sound is driven by classic rock style riffs, coupled with modern hooks and catchy melodies. Highlights to date include performances on Rock The Boat (Australia), Monsters Of Rock Cruse (USA), Hard Rock Hell (UK) plus numerous other shows across Europe. Combining original material and a few covers thrown in for good measure, Haxan will deliver the goods.
Taking fun and entertainment to a new level "NO STANDING" is fast becoming one of the most in-demand covers bands in South East Queensland. Since launching themselves onto an unsuspecting public in 2007 this tight and powerful foursome has crafted a hard rockin' sonic and visual experience, with a set list that comprises some of the most requested cover songs of the last 40 years plus some hidden gems you thought you'd forgotten. "NO STANDING" have proved they can deliver exactly what a crowd wants…a professional, high energy, incredible show. Guaranteed to satisfy!
High Energy Rock n Roll Anthems!! That's what "Dirty Dice" are all about. Also a crowd favourite on Rock The Boat 2018, this Brisbane based 4 piece delivers an unforgettable show designed to get the crowd on their feet and cheering along to Rock/Pop classics from the 70's to now. Dirty Dice bring their extensive musicianship and experience to a new level, involving the punters in singalong choruses and everyone's favourite anthems.If you want a band to get your juices flowing, you won't be disappointed after a night at a Dirty Dice show.
A thoroughly entertaining show from start to finish!
Purchase your tickets now! This event is expected to sell out fast!

**Please note Level 1 - 442 Kingsford Smith Drive - No lift or wheel chair access to top floor in venue. No disabled facilities on this level**