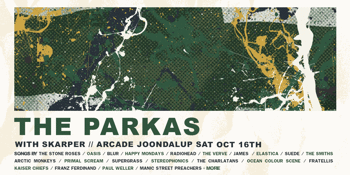 The Parkas
The Parkas + Skarper // ARCADE, JOONDALUP
Skarper
Arcade Nightclub (Joondalup , WA)
Saturday, 16 October 2021 7:30 pm
After selling out their earlier show at Amplifier in May, two of Perth's best British bands, THE PARKAS and SKARPER are teaming up for another big night; this time at Arcade Nightclub, Joondalup.

This will be an amazing Brit bash you will not want to miss, with music from all your favourite British Indie, 90's Britpop and Ska bands; such as...

The Stone Roses, Oasis, Blur, Pulp, Happy Mondays, Arctic Monkeys, Primal Scream, James, The Verve, Supergrass, Stereophonics, The Charlatans, Ocean Colour Scene, Paul Weller, Franz Ferdinand, Kaiser Chiefs, Manic Street Preachers and more. Plus Madness, The Specials, Bad Manners and all your favourite Ska, Reggae and 2 Tone tunes.