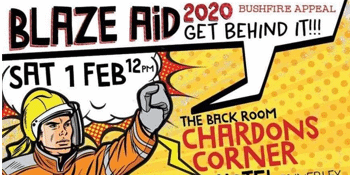 Blaze Aid 2020 ft. Sarah McLeod & Darren Middleton
Sarah McLeod & Darren Middleton plus many many more
The Back Room (Annerley, QLD)
Saturday, 1 February 2020 12:00 pm
Brisbane's finest Acts unite for 12 hours of non stop rock to raise money for the fire appeal. Noon to Midnight.

From a transparency angle we have decided to donate the funds from this event to "The People of Kangaroo Island" to go towards the rehabilitation of half their wildlife population on the island. We hope this suits you all and we are damn sure they would do the same for us...

All artists including Sarah and Darren have donated their time.

LINEUP:
Sarah McLeod (The Superjesus)
Darren Middleton (Powderfinger)
Killtoys
Baltimore Gun Club
Team Utopia
Salt & Steel
Dead Hand Blues
General Waste
Tokyo Beef
Black Creek Band
Black Whiskey
Punktillous
Mainstream Radio
Commonside
Hardox Band
3 Little Pigs

More to come
2 Stages! 20 bands! 1 Huge Day!