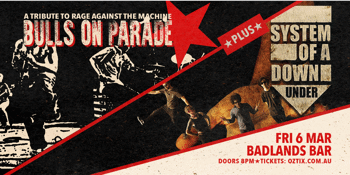 Champion Music presents
Bulls On Parade (RATM Tribute) + System Of A Down Under (SOAD Tribute)
Friday, 6 March 2020 8:00 PM
Here it is... one lineup you don't want to miss - Rage Against The Machine + System Of A Down LIVE at Badlands Bar!
Performed by two killer Perth bands, both tribute acts will play the best of's and rarities from the 90's/00's alt rock/nu metal era.
From "Toxicity" and "Chop Suey" to "Killing In The Name Of" and "Testify", these are the tracks that are best heard live so get your tickets now!