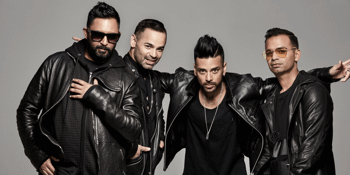 CDB
Chelsea Heights Hotel (Chelsea Heights, VIC)
Friday, 30 November 2018 8:00 pm
Produced by Andrew De Silva and Gary Pinto, these R&B super jams are brought into the now with slick new production and a tight vocally-driven performance one would expect from the band. "The resurgence of '90s R&B into mainstream music culture is like a dream come true for us" says Gary. "This new album allows us to share with our audience a very special time in our lives. The artists we pay tribute to and their culture was our inspiration. Having this opportunity to showcase these songs, put our own flavour into them and bring them into today is a really special thing."

CDB are regularly on the road and touring whether with CDB or other artists. They love creating nostalgia via singing & bringing great songs into a new era. "R&B has always had a diehard following in Australian subculture," says Danny. What can fans expect at a CDB show? "It is a high energy, choreographed, authentic '90s experience with a focus on great singing - and we're backed by some of Australia's best musicians."

Individually, the members of CDB have created their own success stories and etched out their place in the Australian music industry. Andrew won the 2012 season final of Australia's Got Talent and is a successful recording artist, songwriter and producer. He also fronts Boom Crash Opera. Gary has worked as Vocal Director of various shows such as X Factor, Australian Idol and All Together Now and has mentored artists such as: Samantha Jade, Dami Im and William Singe among others. Gary recently accompanied Jessica Mauboy on her quest for Eurovision 2018 as a vocal coach, mentor and support vocalist and earlier this year was nominated for a Grammy for his work on Janiva Magness' record, 'Love Wins Again'. Brad is an accomplished songwriter with successes including co-writing JJJ's Hottest 100 and APRA nominated Song of the Year Boys Like You for rapper 360. He recently achieved a cut on The Beautiful and The Damned - the chart-topping record for US rapper G-Eazy.

As teenagers, CDB were part of Melbourne's south eastern urban scene, a movement that included musicians, producers, rappers, graffiti and visual artists, DJs, fashion designers, and dancers. Signed to Sony in their teens, CDB's debut album Glide with Me (1994) went platinum in Australia and Top 5 in France. Let's Groove topped the ARIA chart and was the bestselling Australian single of 1995. CDB toured the world, playing with the likes of Boyz II Men, K-Ci & Jo-Jo, Desiree and Tina Arena. They performed at the Olympic Stadium in Seoul to a live audience of 100,000 and a broadcast audience of 17 million worldwide. Their second album Lifted (1997) had success with singles Good Times and Back Then.