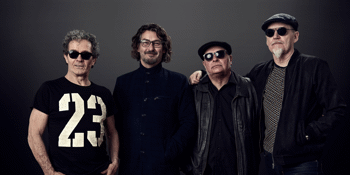 The Harbour Agency present
CANCELLED - Choirboys Live
The Triffid (Newstead, QLD)
Friday, 28 May 2021 6:00 pm
It was an era of live music, and they were the band that put the rock into pub gigs all over Australia.

The sound of a generation.

"The pubs inspired and helped create all the great Aussie bands like INXS, The Angels, AC/DC, Cold Chisel, Men At Work and on and on. We called it Pub Rock way after the fact."

Mark Gable and his mates started in the 70s on the Northern Beaches of Sydney. "We had no idea what we were doing or where it would end up taking us – they didn't call it Pub Rock in those days, but we were there in the beginning and we're still here now!"

Choirboys are renowned for a great live show, it's not just the music it's the atmosphere they bring to the stage. The grafting, sweating, pulverizing, pounding, screaming - doing what they do best. Entertaining an audience by spilling their hearts and souls onto the stage. You just don't get much more Rock 'n Roll than that.

For the past 18 months the band have been recording a series of songs by influential artists. Starting with a 6 pack of Credence Clearwater Revival moving through Tom Petty and now onto Bruce Springsteen the band are on the trail to a music revelation. A reinterpretation of some classic songs into the Australian pub rock format. Possibly the way they should always have been done.