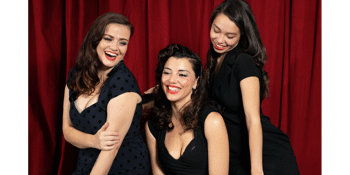 Low 302
The Roslyns present 'Music Of The Vintage Era'
Low 302 (Surry Hills, NSW)
Saturday, 19 October 2019 7:00 pm
THE ROSLYNS Present.......
'Music Of The Vintage Era'
As part of their 'Longing Tour' The Roslyns bring their spine tingling show to Low 302.
Meet three amazing women with fiery ambition & a sentimental connection to vintage style music!
Featuring breathtaking Burlesque Performances by Bella Louche & Special guests!
Where an eternal romance with classic 3 part harmonies, meets Pop-Jazz Nostalgia at its finest" (Manly Daily Mar 18)
Experience captivating voices, & magical renditions of a range of music that spans across time.
Everything from The Everly Brothers to modern icons like Jolie Holland & Adele. Accompanied by their all star Jazz - Motown band.
Their show serves up quirky & endearing touches, cascading layers of New Orleans, & trappings familiar to the days of The Andrews Sisters, Dusty Springfield & The Carpenters.
Be apart of a timeless experience!
As The Roslyns transport you on a trip down memory lane, with a touch of enchantment that feels reminiscent of a bygone era.