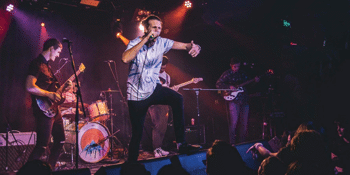 Jack Rabbit Slim's presents
Mt Cleverest 'Money' EP Launch
with special guests
Jack Rabbit Slim's (Northbridge, WA)
Saturday, 28 July 2018 9:00 PM
It is with great pleasure that we present to you Mt. Cleverest's debut EP MONEY.

Recorded & mixed by Andrew Lawson (Debaser Studios) and mastered by William Bowden. Mt. Cleverest's debut EP is a professional introduction to the band and their unique sound, tied together with themes of mortality, confidence, greed, money, love and power the world will finally see what these lads are really about.

Perfectly capturing their high energy live sound within the 5 tracks they are considered a melting pot of both genres and influences, with the funk rap stylings of the Red Hot Chili Peppers, the clever guitar layers of the Arctic Monkeys, and the powerful breakdowns of Royal Blood their Indie-Rock sound provides the perfect canvas for Mechler's powerful vocals and equally powerful messages to hit home.

With Perth underground royalty King Ibis and hip-hop heavyweight 506 on the bill as supports this is not a night you want to miss.