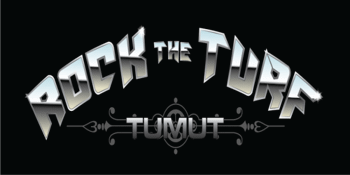 POSTPONED - Rock The Turf Tumut
with Jon Stevens, 19-Twenty, The Swamp Stompers & more!
Tumut Racecourse (Tumut, NSW)
Saturday, 4 April 2020 11:30 AM
STATEMENT TO TICKET HOLDERS
We're postponing Rock The Turf, and won't go ahead with the planned date of Saturday 4 April.
We know you may be disappointed, but we also know you'll be completely understanding of the need to postpone at this time in order to prioritise the health and safety of our event-goers and the wider community. Our committee will continue to assess developments in the situation and hope to hold the event later in the year if possible.
Ticket holders should keep their tickets until a new date is announced. If you can't make it on the new date, you'll then be eligible for a refund. We will provide you with a further update on the status of the event no later than Friday 19th June 2020.
Along with many others, the events industry is facing massive challenges. Please support our artists in any way you can
– buy an album, grab yourself some merch, stream their music – and don't forget our sponsors, suppliers and other local businesses either. Your support now might just make
a difference in this challenging period.
We know that we'll be back in the future, and ready to Rock The Turf once again - 'til then, we know you'll be rocking out at home [and likely forcing your neighbours to listen in too] so stay safe and wash your hands

落
Rock The Turf
is back on the 4th April 2020 for its 7th year!!
Situated alongside the beautiful Tumut River in the leafy grounds of the picturesque Racecourse, Rock The Turf is fast becoming one of the region's premier events. With a full schedule of music from local and national artists to suit the crowds of all ages, a wide array of food & beverage stalls in attendance and a number of children's amusements on offer, Rock The Turf is a day out the whole family can enjoy.
Featuring
Jon Stevens
. Jon is recognised as one of the most talented rock musicians to emerge from Australia in recent memory. He has had phenomenal success as a solo artist, and was also the lead singer of major rock acts Noiseworks, INXS and Dead Daisies. Jon Stevens' career has gone from strength-to-strength: a record-smashing debut at age 16 with two consecutive No. 1 singles in his New Zealand homeland. He also enjoyed huge hits in Australia as lead singer with Noiseworks. Stevens 21st-century liftoff to worldwide acclaim was at centre stage with INXS, and a song released by Dead Daisies which he co-wrote and produced with the legendary Slash on guitar. Ringo Starr plays the drums on the lonely ballad 'One Way Street' and 'Something Bout You' features the vocals of Vanessa Amorosi. Hailing from New Zealand Stevens is now based in Melbourne, Victoria in Australia and travels all over the world touring his music. Jon Stevens is renowned as an exceptional live performer who brings a true passion and presence to his fans.
Favourites
19-Twenty
will be back in 2020 to whip up a frenzy with their infectious riff and groove based blue-billy-grass-rockin'-roots sounds along with
Swampstompers, The Barren Spinsters, Velvetsmyle, Captain Jack, Rock it, The Rhythm Sect, Pearl
and
Colourz.
Rock the Turf will certainly be the live music event you won't want to miss, so whip out your diaries and make a date with Rock the Turf this coming April.
Gates open 11:30am for 10hrs of live music and entertainment!