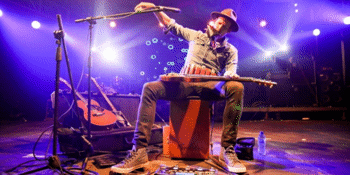 Six By Nine Agency presents
CANCELLED - Juzzie Smith - One Man Band
with special guest - Karin Page
Secret Venue - Melbourne (Melbourne, VIC)
Saturday, 5 December 2020 7:00 pm
*** SHOW POSTPONEMENT NOTIFICATION ***

Unfortunately Juzzie Smith's scheduled secret venue performance on Saturday 28 March 2020 in Northern Melbourne has been postponed to the NEW DATE of SATURDAY 5 DECEMBER 2020 due to the rapidly changing and ongoing situation regarding travel and public health.

All tickets will remain valid for the new date, so please hold onto your tickets for the rescheduled show as no action needs to be taken.

If you are unable to attend the rescheduled event date of SATURDAY 5 DECEMBER 2020 and require a refund, please contact Oztix prior to 30 June 2020

Visit: https://www.oztix.com.au/contactus/

Juzzie sincerely apologises for any inconvenience caused, and looks forward to the chance to share his music with you in December

Stay safe, be kind and look after each other.


*********************************************

JUZZIE SMITH is a ridiculously talented One-man band, based in Byron Bay Australia. Juzzie's unique style is bluesy/folk mixed into a groove of its own.
Marked by an amazing ability to play up to six instruments at once combining the Guitar, harmonica and juggling percussion. Juzzie Smith has had the honour of performing to both international and national crowds from Byron Bay Blues Festival to Edinburgh Fringe Festival, sharing his raw warm vocals with a simple message of loving life.

With over 120 million views on social media and topping the blues iTunes charts around the world, Juzzie Smith is an act you won't want to miss.

SECRET SHOW - NORTHERN SUBURBS, MELBOURNE
Show location announced 9am Friday 27 March 2020
with special guest - KARIN PAGE

JOIN THE EVENT PAGE: CLICK HERE

For all Juzzie Smith, sounds, info and tour dates visit:
www.facebook.com/JuzzieSmithOfficial
www.juzziesmith.com

For all Karin Page, sounds, info and tour dates visit:
https://www.facebook.com/KarinPage
www.karinpage.com