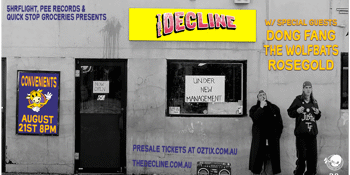 Pee Records, 5hrFlight & Quickstop Groceries
The Decline - Live At Convenients
Dong Fang, The Wolfbats & ROSEGOLD
Convenients - Northbridge (Northbridge , WA)
Saturday, 21 August 2021 8:00 pm
New headline show announcement! It's been ten long years since the release of The Decline's second album "Are You Gonna Eat That". Ten long years of wanting to fulfill a lifelong goal of playing a show at a convenience store. On August 21st, hidden behind the speakeasy style fridge doors of Convenients, an exciting new music venue in Northbridge, The Decline will celebrate this very small milestone with their first headline show for the year, Quickstop style. It's not a new album, it's not even a real launch, but we assure you, we're open.
With support from special guests: Dong Fang, The Wolfbats & ROSEGOLD
August 21st 2021 - Doors 8PM - Cheap Presale Tickets $15 Available Now!
"Are You Gonna Eat That" reissue vinyl available on limited edition picture disc from Pee Records