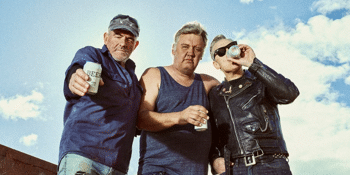 Select Music, MAINfm & Mountain Goat present
Cosmic Psychos - Nice Day To Go To The Theatre
with Special Guests Adalita, Stonefield, Mr Teenage & Thee Cha Cha Chas
Theatre Royal, Castlemaine (Castlemaine, VIC)
Sunday, 26 January 2020 12:00 pm
NICE DAY TO GO THE THE THEATRE!
Select Music, MAINfm and Mountain Goat present a huge 1 day festival at
Theatre Royal, Castlemaine. Sunday 26 January. 12pm - 8pm.
And how is this for a lineup!
Cosmic Psychos, Adalita, Stonefield, Mr. Teenage and Thee Cha Cha Chas.
This event will support Nalderun, a service that supports the local Aboriginal Community, led by Aboriginal People.
Tickets on sale Tuesday 10 Dec at 12pm, with a special Theatre Royal Loyal Royals pre-sale starting on Monday 9 Dec at 12pm.