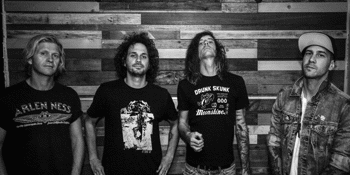 New World Artists presents
Gyroscope - Perth
with special guests
Jack Rabbit Slim's (Northbridge, WA)
Friday, 8 November 2019 8:00 PM
One of Australia's most endearing and celebrated rock bands, Gyroscope, have just announced national tour dates and a self-produced new EP '4YRLV' (pronounced 'For Your Love') – the first taste of music since their double A-side 'Crooked Thoughts / Dabs' released in 2017.

The grunge-soaked title track '4YRLV' opens with a frenetic urgency, bursting out of the gate with monstrous drums, searing guitars and the angst-driven melodies of charismatic frontman, Dan Sanders. The song maintains its relentless progression consistently throughout; never swaying from its driving and compelling intensity. Two other tracks 'Bloodstreams' and 'I Am The Night' also feature on the release. With new music and tour dates also comes the announcement that long time member, Rob Nassif, will be
sadly departing the band and the '4YRLV' tour will be the drummers last live shows with Gyroscope after more than 20 years.

The band pays tribute to Nassif via the following statement:
"We have done it all together, as a band of brothers. Not just in music, but in life. The four of us have been a band longer than we haven't; so, it is sad. But the fact that we are still best mates after it all is a true testament to this band and all that it stands for. We still have some unfinished business, and will continue without the great man sitting behind us watching our backs. Rob, we wish you everything for your next chapter, and say thank you for your legacy".

To coincide with the release and Nassif's farewell, the band will partake in eight performances around the country, including stop-offs in Adelaide, Frankston, Melbourne, Sydney, Canberra, Perth and appearances at Scene & Heard Festival in Cairns and Brisbane.