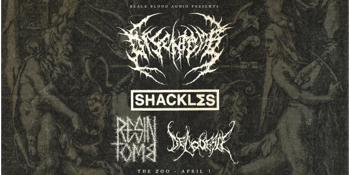 Black Blood Audio presents
Disentomb, Shackles, Resin Tomb, & Deliquesce
The Zoo (Fortitude Valley, QLD)
Thursday, 10 June 2021 6:30 pm
Brutal death metal heavyweights Disentomb are returning to the stage after the release of their new single 'Broken Under Your Symbol Of Atonement'. The bands 2019 full length album entitled 'The Decaying Light' pushed the boundaries of Brutal Death Metal with not only new levels of intensity and raw heaviness, but the addition of melodic yet dissonant hooks & textures. These new components seem to fit effortlessly into their already defined style and it only gives their music more depth, it never seems to take away from the weight or power behind the music. This unique band is a must see for all Death Metal enthusiasts!

Shackles have been melting faces with their hybrid style of power violence/grind and hardcore since 2010. Last year they released their most accomplished & comprehensive LP to date: Hatred's Reservoir. With one foot still firmly planted in the trenches of grinding hardcore, the bands latest record introduces elements of Death Metal, which allows their songwriting to flourish and builds further on their craft, which is basically destructive waves of controlled fury. Anyone who has seen this band live before knows they can pull it off and in impressively tight fashion. Another heavy Brisbane must see!

Resin Tomb is a relatively new name in the game, formed by members of Descent, Snorlax & Siberian Hell Sounds. Their 2020 debut EP wastes no time carving out a dark sound that proves they're not messing around. The combination of dissonant, churning guitar riffs driven by perpetually blistering drums, is the foundation on which this bands' sonic journey begins and ends. This will be a debut performance not to miss.

Deliquesce are an extreme death metal band from Melbourne, Victoria formed by members of Disentomb, Incinerated & Excarnate. Their 2020 EP "Engineered Frailty" gained traction quickly from the underground by showcasing a tight display of brutal death metal and grindcore that will prove to be a very strong opening set! This will technically be the bands first live performance.