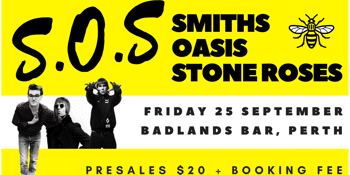 S.O.S - Smiths, Oasis, Stone Roses
ft. The Manic Mancs
Friday, 25 September 2020 8:00 PM
The Manic Mancs will be smashing out a special tribute to the music of these Manchester legends.

Kick off the long weekend in style, and join us at Badlands Bar for a fookin' huge Brit-pop party!

With drink specials running all night, and Live Forever on hand pumping out all your favourite Manc, Britpop and Indie tunes, this will be a night you won't want to miss.

Born and bred in the North of England the 'Mancs' formed to play the Record Club Roadshow at the Newport Hotel in 2017. Since then they have played to countless sold out Stone Roses, Madchester & Brit-Pop loving audiences.