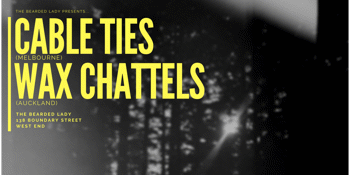 Cable Ties + Wax Chattels
The Bearded Lady (West End, QLD)
Friday, 7 September 2018 8:00 PM
The Bearded Lady presents a double-headline show from Melbourne's Cable Ties and Auckland's Wax Chattels.
Cable Ties are frenetic lead lines tethered to a hypnotic rhythm section. They take the 3 minute punk burner and stretch it pastbreaking point. Suddenly the garage rock gives way as primitive boogie, kraut and post-punk take things way out to the horizon.
Wax Chattels do not have a guitar player, though you wouldn't know it based on their overwhelming sound and energy. They create an atmosphere akin to a traditional loud power trio — using a keyboard, bass and 2-piece kit to create darkly hypnotic, frenetic music that's simultaneously sinister and rhythmically complex.