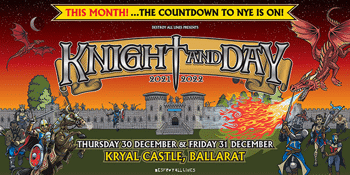 Destroy All Lines presents
Knight and Day Festival
Parkway Drive | Polaris | MORE!
Kryal Castle (Leigh Creek, VIC)
Thu 30 - Fri 31 December 2021 12:00 PM
Hear ye, hear ye!
T'was a battle of a year, fraught with ill bearings but it's time to rejoice, the good people at Destroy All Lines declare a most tantalising soiree with which to bid this wretch of a year adu with Knight and Day Festival, Australia's brand-new two-day alternative music festival, set to march on Ballarat's Kryal Castle, on the eve of New Year.
And Lo! 'Tis a line-up rife with wonderment.
Gracing the festivities will be none other than the Lords of Australian metal, the crowned princes of Byron Bay Parkway Drive, set to unleash their first live performance in an age. Sydney's purveyors of regal metalcore, Polaris will also bestow their sonic wares upon all those who dare enter the Castle grounds.
A preverbal who's who of Australia's alternative noble folk will also be making the sojourn to the faire, from the enchanting Alex Lahey, to ne'er do wells Bakers Eddy and the gluttonously devious The Chats.
And by Merlin's beard, Knight and Day Festival will be a place in which to marvel at magic not seen elsewhere, such as traveling muses Hellions performing their masterpiece 'Opera Oblivia' in full, and the honourable heroes of the scene, The Getaway Plan weaving magic from 'Other Voices, Other Rooms' in its entirety.
Once thou thirst for live music has been quenched, ticket holders can frolic through the array of delights from the mesmerising maze, medieval performances, Dungeons, Torture Museums, Knights Towers, Secret Dragons Labyrinth to DJs and multiple acoustic stages.
Send the ravens, and rally your banner people as now, and once and for all we wish this ghastly year 'Go thy way!'