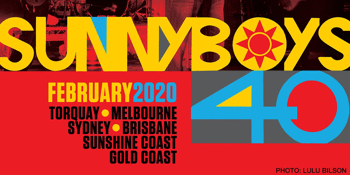 Feel Presents
Sunnyboys
with Special Guests Rocket Science
Miami Marketta, Gold Coast (Miami, QLD)
Sunday, 23 February 2020 3:30 pm
Doors Open: 3.30pm
Food Available 3.30pm

Rocket Science: 4.30pm
Sunnyboys: 5.30pm
VENUE CLOSES: 8.30pm
* PLaying Times are approximate only and are subject to change without notice

The legendary Sunnyboys hot the road this February to celebrate the release of Sunnyboys40, a brand new 8-track album that comprises the first ever re-release of the band's iconic 1980 debut 7" including the original version of Alone With You plus 4 new recordings culled from the archives of chief songwriter Jeremy Oxley.
"You can't keep a good band down. These new and revitalised songs take it back to the reason behind the band in the first instance. The 40 years in between is nicely depicted in the change in voice while the energy and craftsmanship is still there in the sound, albeit a little fuller and rounder. I guess, it's just like us too really… " - Jeremy Oxley
And what better way to celebrate both the new release and the 40th anniversary than by doing what Sunnyboys do best - play live!
And so Sunnyboys hit the east coast this February with a Gold Coast show at Miami Marketta!
Special guests Rocket Science will join Sunnyboys for the Queensland shows.
"We really didn't think we would ever play again as a band. But wow, we have and we sure are having a bloody great time doing it." – Peter Oxley