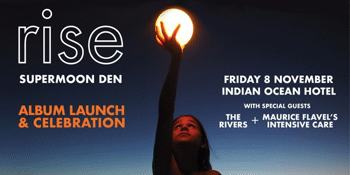 Rise Supermoon Den
The Rivers, Maurice Falvel's Intensive Care
Indian Ocean Hotel (Scarborough, WA)
Friday, 8 November 2019 8:00 pm
Supermoon Den are excited and very proud to be announcing the release of their second album; Rise.
Supermoon Den are a group of accomplished musicians who have worked relentlessly towards creating a dynamic sound which consists of a blend of indie folk, classic & modern rock with a slight and gentle twist of old school country. This album was recorded and produced organically with James Newhouse at Lamb Chop studio in the South West. The band worked tirelessly to deliver captivating performances to give life to the songs on their new album.

Rise has taken a different approach from the first self-titled album which was more of a solo effort. Rise was recorded in collaboratively with good mates, good intentions and lots of passion and pride. It is an eclectic mix of sounds and songs that tell stories and tales invoking emotions between the beauty and reality of the struggle of life.
The band has taken a classic recording approach to this album, every element of each song was recorded live focusing on sound purity performed by real people using real instruments.
Supermoon Den's sound is melodic and supported by rich tones and lush textures.
Supermoon Den consists of Denis Belliveau, Frank Rosetti, Sean Ryan, Francis Fragomeni, Frank Bempasciuto and Angelo Modafferi.
Supermoon Den will be joined by special guests The Rivers and Maurice Flavel's Intensive Care on November 8, at the infamous Indian Ocean Hotel.