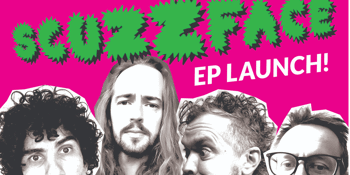 The Last Chance
Scuzzface EP Launch at The Last Chance w/ The Maggie Pills + Frontside Backsides
The Maggie Pills + Frontside Backsides
The Last Chance Rock & Roll Bar (North Melbourne, VIC)
Friday, 22 October 2021 8:30 pm
Join Scuzzface, the Aussie/English punk band who really should know better, for the launch of their debut EP 'Kenny Lucky Legs'.
Scuzzface takes inspiration from the 80s garage punk sound, full of angst and anti-establishment, and mixes in an unhealthy helping of satire, humour and the outright bizarre.
With support from The Maggie Pills and Frontside Backsides (aka FSBS), it promises to be a cracking fun evening.