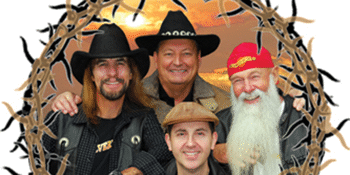 The Longyard Hotel presents
The Wolverines
Longyard Hotel (Tamworth, NSW)
Tuesday, 22 January 2019 2:30 PM
Doors: 2.30pm
Show: 3pm

Expect them to meet you at the door and expect to leave with a smile on your face..... What happens in between depends on WHO (the audience is), WHERE (in the world the show is) and WHEN (morning, noon or night). These guys give "made-to-measure" entertainment from their extensive repertoire of originals, contemporary country rock & retro classics. They select for the specific audience, be it kids, families, adults or perhaps sailors, bikers or party animals!
Since releasing their first single in 1994 the Wolverines have produced 8 CDs & a DVD and travelled the length & breadth of Australia & as far afield as Afghanistan & Iraq performing.
With multiple albums & multiple awards to their credit, these 3 multi-talented musicians combine to produce a unique & versatile entertainment experience.
They are fun, funny & irreverent, highly musical & totally entertaining.
Their musical style ranges from original Country Rock through to Retro Classicsl.
Their look has been described as "hirsute highway" & "corporate feral".
Their outlook on life is serious tongue-in-cheek & they want to share it with everyone!
Catch them at The Longyard for 2 fantastic shows in January 2019