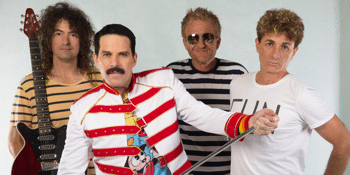 Killer Queen Experience
Villa Noosa Hotel - The V Room (Noosaville, QLD)
Friday, 20 September 2019 8:00 PM
Formed in 2003, The Killer Queen Experience has risen from a Local Brisbane based Queen Cover Band to an International Touring Show and is Australia's most sought-after Tribute Act today.

Persistence has paid off for Lead Singer John Blunt, original member and Freddie Mercury Impersonator for over 15 years, cementing John as the most recognised Freddie around the globe.

Originally known as "The King and Queen Show"(a tribute to Elvis & Queen), John found his talents entertaining guests at Warner Bros Movie World imitating characters such as Roy Orbison, Austin Powers, Elvis Presley and Freddie.Forgetting his costume fronting a Cover Bandfor a Halloween gig, John some how accidentally dressed as Freddie and the rest is history!

Move forwarda decadeand John was chosen by ITV Channel 5 UK for the Docu/Drama "The Freddie Mercury Story – WhoWants to Live Forever" a detailed look into the personal lifeand death (45 years old in1991) of Queens Frontman, screeninginthe UK, Europe and North America in 2016.

John's resemblance to Freddie Mercury is uncanny, appearing Live to 7 million viewers on the FRENCH TV SHOW - "Qui Sera LeMeilleur Sosie? " - "WHO WILL BE THE BEST IMPERSONATOR"

Killer Queen have taken their show to such places as the UK, Norway, Singapore, India and shared the bill with the likes of Jeff Beck, Foreigner, Journey, Twisted Sister, Thin Lizzy and Kelly Rowland.

The Band-Wayne Vitale Bass Guitar (John Deacon),Kevin Shilling Drums (Roger Taylor) and Andrew Edwards Guitar (BrianMay) form the complete Queen line up portraying their opposites in Costume,Replica Instruments and Harmonies all Live on stage. It has taken numerous band member changes to"perfect"the"perfect"line up that is now the right Queenchemistry.

The 2-hour live show consists of all Queensgreatest Hits including–Bohemian Rhapsody, We Will Rock You, We Are the Champions, Somebody to Love, Radio Ga Ga, Another One Bitesthe Dust andselect album tracks for the hardcore fans.

With the release of the 20th Century Fox Queen Official Hollywood Bio /Pic "Bohemian Rhapsody" in 2018, Killer Queen is set to continue the flame and legacy into the next decade forthe world-wide audience of one of the most loved and Innovative Rock Bands of the modern era - Queen.