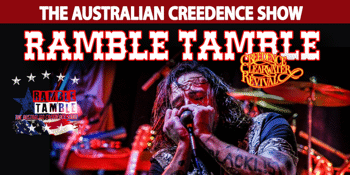 Presented by Live at Your Local & Gizakiss
Ramble Tamble - The Australian Creedence Show
Sandbelt Club Hotel (Moorabbin, VIC)
Saturday, 27 July 2019 6:30 PM
DINNER AND SHOW DOORS from 6:30PM
SHOW ONLY DOORS from 8:30PM
SHOW STARTS from 9:00PM


Creedence Clearwater Revival and their play list of hit songs have been born again in the body and soul of Melbourne five-piece band, Ramble Tamble – The Australian Creedence Show. The hit songs of CCR are as popular today as when they were first released.

Songs like Proud Mary, Down on the Corner, Who'll Stop the Rain and Green River populate the show like lifelong neighbours, old friends that you know so well, visitors that could never out-stay their welcome.

Come join this amazing band for a night of all things Creedence. Gather your friends for Dinner & Show or join us on the dance floor for Show Only. It's a great night out!