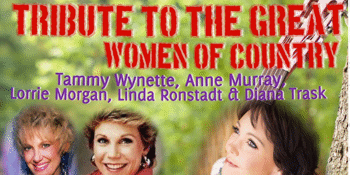 Moonshiners Honky Tonk Bar presents
Women of Country Tribute Show
with special guests
Moonshiners Honky Tonk Bar (Tamworth, NSW)
Tuesday, 22 January 2019 2:30 pm
Doors 230pm, Show 3pm

The Women of Country Tribute Show pays respect to Tammy Wynnette, Anne Murray, Linda Ronstadt, Lorrie Morgan and Diana Trask. Five of the most respected women in Country Music.
The Show will feature 6 Hit Songs from each respectful artist showcasing the highlights of their Musical career with the songs that they performed and loved.
Vanessa Sanger pays tribute to these great Women of County and sings their songs with passion and respect, the Women who made Country music sing. Vanessa has a love for the Women in Country music and her vocal ability is second to none. At a young age Vanessa grew up listening to the true backbone and foundation of Country Music with these Women Of Country Music. The Women who resonated a love for storytelling life through song. Life experiences when the voices of women were not heard. Through their music they were and they will live on forever.

Along with the Women of Country Show comes a Special Opening Tribute to Merle Haggard. Glen Albrecht has a passion a for Classic Country Songs and will open the Women Of Country Tribute Show with an outstanding vocal rendition of Merle Haggard hits. Glen Albrecht has a voice that makes the heart melt. Merle Haggard compliments the Women Of Country Show and with Glen Albrecht singing these hit this is a show not to be missed.