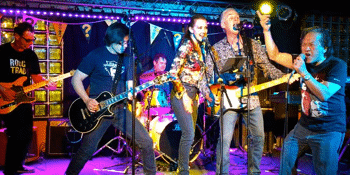 Sydeny Uni Coaching Psychology 2020 Conference present
The Interceptors
Manning Bar (University of Sydney, NSW)
Saturday, 15 February 2020 8:00 PM
The Interceptors are raw, thumping old school rock'n'roll and blues featuring the classic songs of the legends of rock.
The band's musical driving force is Les Gock - Lead Guitarist, with 70's gold record-winning Countdown legends "Hush". The band is completed by Anthony "The Professor" Grant - perhaps better known for his work at Sydney University's Coaching Psychology Unit. Ray Lee steers the band on Vocals and Keyboard, John Pearce holds them steady on Bass and Vocals and Tim Sprague rocks on Drums. With 3 psychologists in the band, there is an amazingly low level of dissonance, high level of flow, huge amounts of positive affect and fun.
This gig coincides with the Sydney Uni 2020 Coaching Conference https://www.coachingconference2020.com/ . The gig is open to all and conference attendees are half price at the door if they show their conference ID. This gig is the first, last and only gig of Tony Grant's much anticipated exclusive "Farewell to Sydney Uni Tour".
Expect all the rock hits, including a classic Who, Steppin' Wolf, Stones and Lenny Kravitz as well as OZ rock from the Angels, AC/DC and more. A gig not to be missed.