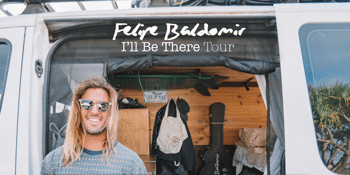 East West Presents & Miami Marketta presents
Felipe Baldomir & Alex James Bowen (LATE SHOW - SOLD OUT)
Miami Marketta, Gold Coast (Miami, QLD)
Friday, 25 September 2020 8:30 PM
Since releasing his debut album, 'Nature Speaks' (Nov 2017), Felipe has toured the South American region playing at festivals and recitals in Argentina, Brazil, Uruguay and Paraguay.

A highlight has been supporting Milky Chance on their last tour of Latin America.

Felipe arrived in Australia after touring Indonesia performing at iconic venues such as Old Mans, The Cashew Tree, and Deus Temple.

Since arriving in Sydney (August 2018) he has converted a van into a "rolling home & studio" and has been performing around Australia at house concerts, venues (The Northern Byron Bay, Solbar Sunshine Coast, Miami Marketta Gold Coast, etc) and festivals (Falls Fest Lorne 2019, Seaside Fest St Helen Tasmania 2019) as well as beginning work on his second album 'Only Light'.

He is currently based in Byron Bay and has been touring, supporting and performing alongside Jack Botts, Tay Oskee, The Dreggs, Kyle Lionhart, Dusty Boots, Ben Camden and Ziggy Alberts, and can be seen regularly sharing his music as an integral participant of the Byron busking community.