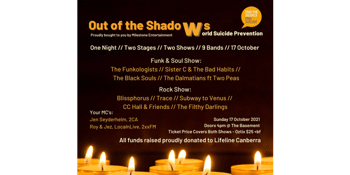 Milestone Entertainment
CANCELLED - Out of the Shadows - World Suicide Prevention Day (proceeds for Lifeline Canberra)
Jen Seyderhelm (2CA) and Roy & Jez, LocalnLive, 2xxFM
The Basement - Canberra (Belconnen, ACT)
Sunday, 17 October 2021 4:00 pm
Are you ready to be part of a sensational night filled with local talent, with all proceeds donated to Lifeline Canberra?
On Sunday 17th October, a fundraising event with a difference!
On offer are two concurrent shows, across two stages, with 9 bands!

Feeling funky? Head to the After Dark Bar and enjoy The Funkologists, Sister C & The Bad Habits, The Black Souls and The Dalmatians ft Two Peas.
Feeling a bit more like some rock? Can't go past Blissphorus, Trace, Subway to Venus, The Sunbears and The Filthy Darlings!

MC'ing on the night are local radio personalities Roy & Jez from LocalnLive and 2CA's Jen Seyderhelm!

So why this event?
Suicide is the leading cause of death for Australians aged between 15 and 44 years. Here in Canberra, we lose at least one life every week! Thankfully, Lifeline Canberra's telephone crisis supporters prevent the loss of dozens more through their 24/7 telephone service (13 11 14).

That doesn't mean we can be complacent. According to the World Health Organisation, someone takes their own life every 40 seconds... that's about 800,000 people worldwide every year — although some estimates put that number closer to 1 million.

Suicide is a complex issue with devastating impacts on individuals, families and communities. Lifeline believes that many Australian lives lost to suicide can be prevented through compassion, connection, capability, and campaigning. Lifelines telephone crisis support workers are volunteers, but they need funds to ensure these volunteers have the training, knowledge & support they need to continue to save lives.

So, let's come together, raise awareness, generate hope, honour those we have lost, and celebrate those who were able to find their way out of the shadows. Let's put an end to the silence!