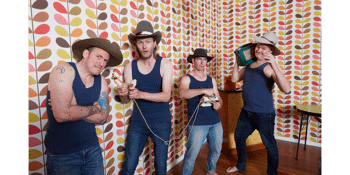 The Pub Group presents
The Pigs
Longyard Hotel (Tamworth, NSW)
Saturday, 25 January 2020 8:00 pm
Tamworth favourites' The Pigs return to the Longyard for 2 huge shows at Tamworth Country Music Festival 2020!
This year The Pigs celebrated their first Aussie #1 with their new album "Hillbilly Synthesiser".. and toured Australia to boot! Videos for Hillbilly Synthesiser and Olive' Call Me broke the interwebs and cracked smiles all over!
But us Pigs aren't happy just wallowin' about in recent triumphs.. 2020 is the 10th anniversary of our classic album "Horses". An album that includes many of The Pigs' most enduring crowd favourites like Macho Moisturiser, Hey Christina, Single Ladies and a truly epic spin on Kenny Rogers' The Gambler deserves a special Pigs style anniversary party...!
So this year we'se thought we'd celebrate the old and new.. a monster first set celebrating Horses, then will be returnin' to the stage to give the audience a taste of the new, including songs from their recent chart-topping work, Hillbilly Synthesiser.. and all our other greatest hits. 'N crikeys there slots of 'em.
See ewes there!