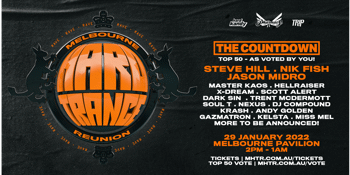 Pharmacy, Hard Kandy & TR!P
Melbourne Hard Trance Reunion 2022
The Countdown, Steve Hill, Nik Fish, Jason Midro, X-Dream & more
Melbourne Pavilion (Kensington, VIC)
Saturday, 29 January 2022 2:00 PM
The weekend has landed! Three households, each alike in dignity, in fair Melbourne where we lay our scene, from ancient grudge break to new union, where rave bonds make rave hands unite. After some twenty seasons in the abyss, Melbourne's OG corporate techno whores, Pharmacy, once again reunite with their brothers in arms Hard Kandy and ascendant party starters, TR!P, to create an all new three-headed hydra with whom to deliver the ultimate love letter to the chemical generation.

The Melbourne Hard Trance Reunion is back to bring da f*cking ruckus! Prepare for the ultimate throwback experience: a classic festival for Melbourne's millennial ravers, weekend warriors and associated ratbags. After a legendary SOLD OUT debut in 2019 followed by a furlough year in 2020 due to that low key outbreak of spicy cough, MHTR is back... bigger, badder and with a brand new pair of rollerskates.

"Good artists copy, great artists steal." While MHTR proudly features the largest gathering of DJs, button pushers and wannabe rock stars from Melbourne's glory days, we are thrilled to announce our latest concept. Introducing: The Countdown! Part Hottest 100 and part Nick Skitz Megamix, The Countdown will feature a four-hour set from Trent McDermott and Dark Sin presenting a celebration of the top 50 greatest hard trance tunes as voted by YOU!

Brace yo'self for a majestic return to the halcyon days of trance and acid; trance so hard it might nick your watch. Follow us over the rainbow and prepare to bathe once again in the reflected glory of the golden years when we lived for the weekend, were addicted to drums and slaves to the rhythm. These were the days before Qorporate raves when Scot Project, Cosmic Gate and all manner of big and bouncy hard trance reigned supreme. Days when the docks were our holy land, raving was still dangerous and everyone was dressed by Strange Days.