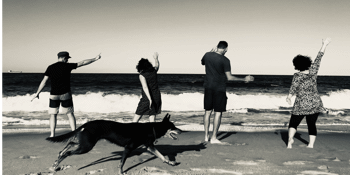 Presented by 4000 Records
The Double Happiness
The Junk Bar's Skukum Lounge (Ashgrove, QLD)
Friday, 21 February 2020 7:00 PM
Photo credit: Kim Senior
A double set with The Double Happiness
The Double Happiness is a band influenced by its environment, writing songs about their hometown city, the country, and the surf. Having played wonderfully intimate sold-out shows previously at The Junk Bar, this performance is not one to miss!
The Double Happiness recently unleashed 'Wild Bikini' (with B-side 'Spooky Tiki - Theramin mix') as the first single from their upcoming surf and reverb-drenched album aptly named "Surf Gazing".
Inspired by 60s B-grade movies, Wild Bikini has overtones of surfing safaris with a genie trapped in a bottle washed up on the shore.
Wild Bikini spins the genie bottle in a new direction.
Previous releases include "No Place Like Nundah" both an ode to Brisbane's past destroyed by greedy developers and corrupt politicians, and a love letter to the current city. This single was voted Number 15 in 4ZZZ's Hot 100 Songs of 2019.
In 2018, The Double Happiness released their debut EP 'City' filled with post-punk gems and reverb-laden licks that cemented their love for Brisbane past and present. The title track found a niche in community radio across the country and garnered praise from ex-Go-Betweens John Wilsteed and Ups and Downs frontman Greg Atkinson.
"City is a fast-moving, wonderfully angular guitar pop song with a dash of melancholy. Right up my Brisbane alley." – Greg Atkinson, Ups and Downs
"Lots and lots of twangy guitars, tangential vocal styles – they are the grandchildren of post-punk spatial purity. I am taken with this sound, with its tanky reverbs, snappy snares and pretty melodies. They sound like the past and the future in a blender, and they sing about my
hometown - double the happiness of most other bands." - John Willsteed, Halfway, ex -Xero & Go-Betweens.
International attention followed as they supported UK Indie giants The Charlatans on their Brisbane date of the Australian tour.
The Double Happiness live performances are not to be missed and have been known to magnetise people in from out on the street, and inspire non-dancers to jump to their feet! Follow The Double Happiness from the City to the Beach where you'll hear their long-awaited full-length album, which will be released by 4000 Records later this year.
The Double Happiness is Pete Fergusson (vocals, lead guitar), Kristin Black (vocals, rhythm guitar), Meg Welchman (vocals, bass) and Simon Welchman (drums).
INSTAGRAM
FACEBOOK
YOUTUBE
SPOTIFY