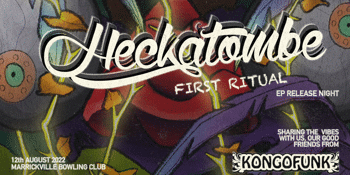 Heckatombe EP Launch
Marrickville Bowling Club (Marrickville, NSW)
Friday, 12 August 2022 7:30 pm
With a mix of Latin rhythms, reggae, ska, and some magic hints of swing and jazz, Heckatombe was born in Sydney in 2017 when Gabs (saxophone, vocals) and Esteban (percussions) met busking at CBD. After jamming together, they noticed everybody dancing around them, which was something they, of course, loved. So they baptised this blossoming musical friendship as Heckatombe and soon managed to recruit the most terrific musicians from around the world to add up to their already "spicy sound".
The "newborn band" got immediate results by winning the audience's favourite prize at the Youth Music Infusion Competition and Concert, ISLA City of Sydney, in May 2018. Since then, they never stopped their creational wave, now reflected on a vast original setlist beloved by their audience.
Heckatombe members are Ricardo (percussions), Esteban (percussions), Gabs (saxophone, vocals), Riley (drums), Amy (trombone), Patricia (keyboard), Carlos (bass guitar) and Tito (guitar, vocals).
We are also delighted to announce Kongofunk as our supporting band for our "First ritual" EP launch. The charismatic music of Kongofunk is a modern fusion of dance-oriented funk, soul, samba, and reggae grooves! Born from Sydney's eastern suburbs beaches jam sessions in the summer of 2010s, this four-piece outfit has emerged from a rich multicultural musical background.
Originating from South America, the band consists of Rafaela Nardi (vocals), Tales Santiago (bass/vocals), Pedro Galiardi (guitar) and Vini da Costa (drums).
The spontaneous vibrancy will transport you on a musical journey from the funk grooves of Ed Motta Tim Maia to the charming tunes of David Bowie.
Kongofunk creates a distinctive high-energy vibe connecting the audience and invites young and old to dance the night away.