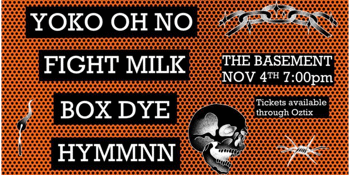 Yoko Oh No, Fight Milk, Box Dye, HYMMNN
Fight Milk, Box Dye, HYMMNN
The Basement - Canberra (Belconnen, ACT)
Wednesday, 4 November 2020 7:00 pm
Hey Canberra punk kids, this one's for you. Old local favourites Yoko Oh No and Fight Milk are taking to the stage with the fresh faced Box Dye and HYMMNN to bring you some high energy to spice up your Wednesday night.
Tickets are $10 presale, $15 on door (limited capacity of 100 people).
Come along and support your locals!