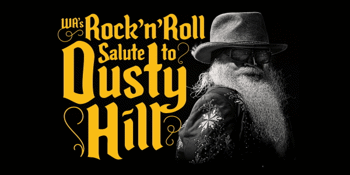 Six By Nine Agency presents
WA's Rock'n'Roll Salute to DUSTY HILL | featuring TRIPLE ENGINE
with special guests HELLS BELLS & BLACK ROSE
Saturday, 22 January 2022 7:00 PM
On 28 July 2021 the music world lost a true legend, Joe Michael "Dusty" Hill, one of the founding members, bassist and vocalist of rock greats, ZZ Top. (May 19, 1949 - July 28, 2021)
On SATURDAY 22 JANUARY, Perth power trio TRIPLE ENGINE give a ROCK'N'ROLL SALUTE to the late and great DUSTY HILL at the BADLANDS BAR in PERTH, performing a full set of classics including La Grange, Gimme All Your Lovin, Tush, Legs, Sharp Dressed Man and many more!

Joining in on WA's tribute to a rock legend will be HELLS BELLS - AC/DC TRIBUTE &BLACK ROSE - THIN LIZZY TRIBUTE

Born on May 19, 1949 in Dallas, Texas, Hill grew up playing cello in high school before transitioning to bass. He started his career playing alongside his guitarist brother Rocky and future ZZ Top bandmate Frank Beard in a series of local bands such as the Warlocks, the Cellar Dwellers and American Blues. It was during this time he met future ZZ Top frontman Billy Gibbons, who was touring the same Texas circuits with his band the Moving Sidewalks.
After the brothers parted company in 1968 over musical differences, Hill and Beard moved to Houston, where they eventually united with Gibbons, who formed ZZ Top in 1969. The band's original bassist introduced Gibbons to Beard, and Hill would join the pair for a gig in Beaumont, Texas, in February, 1970. The line-up remained the same for more than five decades. In 2020, they celebrated their 50th anniversary at a San Antonio concert.
Will Lavin | 28th July 2021 | www.nme.com

"We, along with legions of ZZ Top fans around the world, will miss your steadfast presence, your good nature and enduring commitment to providing that monumental bottom to the 'Top. We will forever be connected to that 'Blues Shuffle in C. You will be missed greatly, amigo." | ZZ TOP
WA's Rock'n'Roll Salute to
DUSTY HILL
featuring
TRIPLE ENGINE performing ZZ TOP
HELLS BELLS performing AC/DC
BLACK ROSE performing THIN LIZZY

SATURDAY 22 JANUARY 2022 | BADLANDS BAR, PERTH
1/3 ABERDEEN STREET (McIVER TRAIN STATION) | DOORS OPEN 7:00PM

JOIN THE EVENT PAGE: CLICK HERE
For all TRIPLE ENGINE info and updates visit:
www.facebook.com/tripleengine