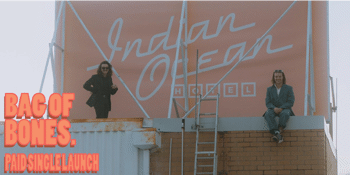 Bag of Bones
Indian Ocean Hotel (Scarborough, WA)
Saturday, 3 October 2020 8:00 PM
BAG OF BONES "PAID" SINGLE LAUNCH!
The two lads out of Scarborough are ready to hit the stage again and celebrate the release of their newest single "PAID" which is available on all platforms!
The boys have gained some huge traction following the release of this single including a premier from "Fraction" , a radio interview from "BOOM radio" and much much more! In fact , here's a few quotes from some of the interviews and reviews:
- "The track only goes for 2 minutes but it packs one hell of a punch with the strong instruments which is bound to be a fan favourite and will certainly be a hit with the crowds at their next show" - FOR THE PUNKS
- "This band will take you to many places. Their timeless yet transcendent sound, very quickly makes them one of my favourite bands of 2020, and certainly one to watch" - DISTANT MAGAZINE
Last time the lads hit indi bar it SOLD OUT within a week so you DO NOT want to sleep on this one!!
We are stoked to have a great bunch of locals to join us on stage for the night including Tied Down & Monkey Emperor.
It's going to be a huge weekend for Scarborough as the Groundswell Festival is on and we are stoked to be apart of the great event!