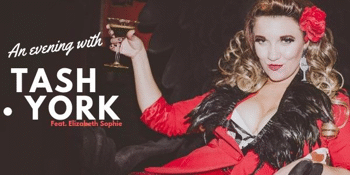 Low 302
An Evening with Tash York
Low 302 (Surry Hills, NSW)
Thursday, 17 October 2019 6:00 pm
"Get set Sydney! Internationally touring, award-winning cabaret artist Tash York has her sights set on Low 302 for an intimate evening of entertainment, food and wine.. of course!
With her wine-loving antics and witty repartee, Tash York is a singer, improviser, cabaret performer, MC and….. balloon twister! Known for her ballsy voice, dynamic energy and an uncanny ability to rap on command, Tash "is a phenomenal performer, charismatic and courageous" (Theatre People).
Tash has performed to sold-out audiences at Perth Fringe World, Adelaide Fringe, Edinburgh Fringe, Melbourne Cabaret Festival, Ballarat Cabaret Festival, Brisbane Wonderland Festival and Melbourne International Comedy Festival. You might have also seen her on board P&O Cruises with her unique brand of Comedy Cabaret singing her heart out and causing mischief.
With her matchless brand of entertainment and incredible vocals, Tash York is full of exuberance, outrageous behaviour and probably a glass (or 10) of wine to boot! She will be joined by the gorgeous songbird Elizabeth Sophie on the evening and live accompaniment by Michael Wheatley. Book in advance to secure a table and dinner reservations, this event will sell out!"
"Tash is extremely captivating and will immerse you in her world" - Beat Magazine
"Mistress of Ceremonies, Tash York, had the requisite charm, strong voice and personality to get the audience excited" - Weekend Notes
"The universe doesn't know it yet, but York really is one of the best cabaret artists in the business. One worthy of the biggest stages in the world." - What Did She Think
"With a divine voice you could never tire of and a charismatic, commanding personality, York is a true talent audiences are lucky to experience." - Theatre People.
"York is one of Melbourne's greatest cabaret artists." –We Know Melbourne