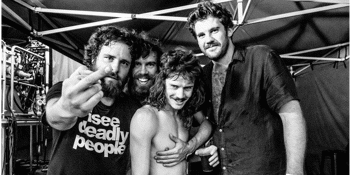 Cool Perth Nights
Southern River Band and Friends
The Naval Store (Fremantle, WA)
Saturday, 15 August 2020 7:00 PM

G'day fans of The Southern River Band! 💥🎟 VENUE UPGRADE + MORE TIX AVAILABLE 💥🎟

"We've already had to push it back once, and we're not f***ing doing it again" declared The Southern River band and Mojos Bar Fremantle, united together in the face of yet another delay in Phase 5 restrictions (see you and 29,999 other people at the footy though (LOL)), with a show that needed a bigger room!

A bigger room indeed, The Naval Store in East Fremantle to be precise, a kick arse recently renovated warehouse 🔥

Your mates at Mojo's will be running a full bar like only they can, and ya mates SRB will be serenading you with the sweet sounds of their world renowned 'Rock 'n' Roll Dance Party'.

All previously purchased tix valid! Tell ya mates to get 'em while they're there to be got! Supported by Lightnin Jack and DJ Bee Rizzi, it's gonna be a ripper.