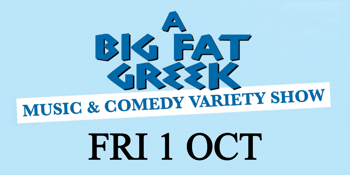 Dom Arpa Productions
A Big Fat Greek - Musical & Comedy Variety Show
Featuring: George Kapiniaris, Maria Maroulis, Costas Sakellaris, Tony Nikolakopoulos & Johnny Kats
Shoppingtown Hotel (Doncaster, VIC)
Friday, 1 October 2021 8:00 pm
'Big Fat Greek Comedy Show' was first put on at The Arkaba in Adelaide. The Show was Sold Out and it was a huge success with everyone raving about it!

It was fun, funny, musical, a little romantic, and captivating with the blend of music & comedy.

A Big Fat Greek COMEDY Show is now due to hit MELBOURNE for a ONE NIGHT ONLY SPECIAL EVENT at Shoppingtown Hotel on the 13th August 2021

Starring Acropolis Now's George Kapiniaris, The Wog Boy's Tony Nikolakopoulos, Songstress and star of Kinisi Maria Maroulis, Bouzouki Player Extraodinaire Pantelis Krestas & special guest comedian Johnny Kats (back from the UK.)

Tickets are strictly limited due to Covid Number Restrictions so BOOK EARLY!