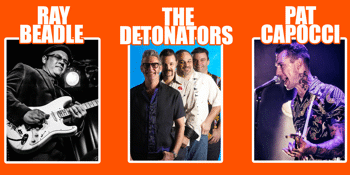 Code One
Ray Beadle + The Detonators + Pat Capocci
Saturday, 14 September 2019 7:00 PM
This Show is General Admission with unreserved table seating, Dinner is available before the show at one of our great restaurants

Zabou Bar & Grill Open Wednesday to Friday for Dinner 5.30pm - 8.30pm https://clubyork.com.au/zabou-bar-grill/
or
Amore Ristorante Open Monday to Saturday for Dinner 5.30-10.30pm https://clubyork.com.au/amore-ristorante/

To book call 9290 1155
Ray Beadle
Australia's premier Blues artist "Ray Beadle" has been playing guitar since he was 10 years of age and started performing live from the age of 16yrs. Ray was noticed in the early part of this century performing a 3-month residency with the house band in B.B King's Club in Memphis and Buddy Guy's Blues Club in Chicago as well as several Southern Blues festivals in the USA. While in the States, Ray recorded with Arkansas blues man Mark Sallings and has also had the privilege of performing in most of Australia's most prestigious Blues and Jazz Festivals all around this great country.
Chris Cain remarked "Ray is unquestionably one of the finest musicians I have come across …His song writing has a harmonic and emotional depth that many strive for but few capture. Ray's guitar work… well, lets just say this cat is VERY dangerous."
The Detonators
were formed way back in August 1997.But it seems like only yesterday! Always based in Melbourne Australia this popular hard working quartet have never been afraid to hit the road, haul some kilometres and rack up a heap of gigs. They believe they have easily done more than 3000 gigs since they first formed.
The Detonators have a finely honed array of original songs and a stage show that only comes from years of gigging pubs, clubs and festivals. Their relentless gigging and touring over vast distances over the years both in Australia and overseas has seen them become crowned kings of Australian roots rock n roll. Their original music, to which all members contribute, is best described as a lethal combination of early blues with a sprinkling of rockabilly and early rock n roll thrown in.
The band features bespectacled Rockbottom James on vocals and electric harmonica, Paulie Bignell on hollow body guitar, Doghouse Dave on slapping double bass with Eddie Fury on sticks and skins duty. There are six Cd's in their arsenal and a book currently being written about the bands exploits over 22 years which will be available mid to late 2020. The Detonators are always on rotation on radio, Spotify, Apple Music, iTunes, YouTube etc, and have had their music on the local film Charlie and Boots as well as the Australian Crime TV series Underbelly. Thunder Road Brewing have used their songs in radio ads, and top rated American TV series De Grassi High also uses Detonators music.
Pat Capocci