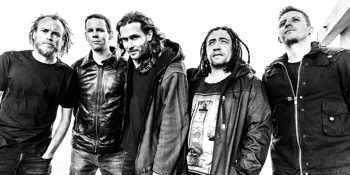 Yalla Yalla 'Tides' EP Launch
with Fuzz Toads, St James Sirens & Lights of Berlin
Jack Rabbit Slim's (Northbridge, WA)
Saturday, 19 January 2019 8:00 pm
Western Australia's impeccable coast inspires some fantastic music. As the azure Indian Ocean curls into some of the world's most perfect waves, it's impossible to be present and not be affected by its timelessness. Encapsulating this infinite energy in vehement progressive rock, Perth five-piece Yalla Yalla have put forward Aquatica from their stunning sophomore EP, Tides.

Yalla Yalla formed in 2014 as the trio of brothers Dave and Tim Watkins (vocals/guitars and drums respectively) and guitarist Ben Harvey. Over time, the band's scope and personnel expanded to include bassist Alex Capes and Conrad Pene (who switched from bass to his current position of lead guitar). With this lineup, Yalla Yalla evolved into a musical vanguard that is part immovable object, part irresistible force. A sonic meteor storm of technical syncopated beats, inspired riffs and powerful, captivating vocals.

Distilling all of these elements, Tides is an incredible accomplishment of songwriting and production. Fastidiously toiled over, no attention to detail on the record has been spared. Each song starts with a foundational element – a melody, a beat, a lyric – and is honed into something more... something magnificent and complex, but with the beating heart of simplicity. Reflecting thoughtful creativity and diligent practice, Tides is daring and progressive, yet familiar and intimate.