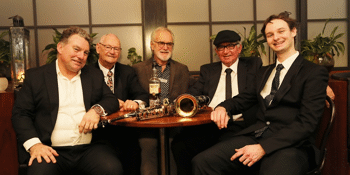 Pete Vance Sings Heart and Soul
Feat the Art Deco Swing Band
The Lounge (Royal Hotel) (Nundah, QLD)
Saturday, 26 September 2020 8:00 pm
Pete Vance Sings Heart and Soul with The Art Deco Swing Band
Peter Vance's passion for singing has taken him to many places, from performing at the Papua New Guinea Independence Ball 1976, and the Olympic and Paralympic Torch Relay Celebrations Brisbane 2000, to the World Expo in Japan 2005. In 2007 he became Brisbane's Senior Superstar performing to a packed audience at City Hall. More recently Pete Vance has performed with Brass Roots Live Big Band, Art Deco Swing Band, The Mark Pradella and Sammy Pace Bands as well as individual performances at many venues and events around Australia.
Pete Vance now comes to The Lounge Nundah to perform a selection of tunes that will move your Heart and Soul. From tender, jazzy ballads like Louis Armstrong's "What a Wonderful World" to soulful classics like Check Berry's "Route 66", Pete will take you on a musical journey, make you forget the world for a little while, and warm you heart and stir your soul!
Backed up by the Art Deco Swing Band, founded by Joe Howman, and feature band at the Lounge for the last 3 years, Pete will bring you a night of Jazz, Blues and Soul music you won't forget!