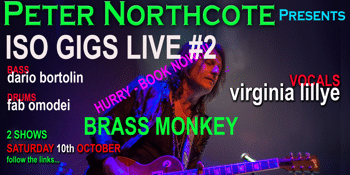 CODE ONE presents..
Peter Northcote Presents ISO GIGS LIVE #2 - LATE SHOW
Brass Monkey (Cronulla, NSW)
Saturday, 10 October 2020 8:30 pm
We are abiding by all COVID 19 Restrictions and Protocols so anyone displaying signs of illness will not be permitted entry.

All Shows Are 18+ - Doors Open 8.30pm
Venue contact - brassmonkeycronulla@gmail.com
...
When COVID19 hit, Peter got thinking….
"I have a small studio in my 2nd bedroom and an amazing entourage of musicians and singers. LET'S DO A GIG!"
The ISO GIGS have been a massive success reaching over 10,000 views on Facebook overnight.
Peter is now bringing all the singers who have performed on the Thursday night ISO GIGS to the Brass Monkey.
With
VIRGINIA LILLYE – DARIO BORTOLIN & FAB OMODEI.
Two massive shows with Australia's BEST of the BEST.
BOOK EARLY!!!!!!!!!!!!