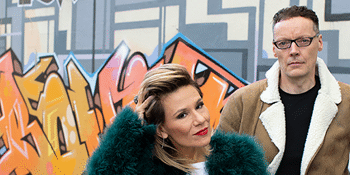 Saturday, 25 May 2019 7:00 PM
This Show is General Admission with unreserved table seating

Dinner is available before the show at one of our great restaurants

Zabou Bar & Grill Open Wednesday to Friday for Dinner 5.30pm - 8.30pm
https://clubyork.com.au/zabou-bar-grill/
or
Amore Ristorante Open Monday to Saturday for Dinner 5.30-10.30pm
https://clubyork.com.au/amore-ristorante/

To book call 9290 1155
​​​​​​​
Bachelor Girl is one of the biggest and most loved Australian acts of the 90's and early 2000's, enjoying international acclaim particularly in Asia, Scandinavia and the U.S. (including signing with Clive Davis at Arista Records).
Standing out with their exceptional songwriting and Tania's warm, powerful vocal, APRA recently reported a massive achievement for the band - their hit single "Buses and Trains" being the most played Australian composition on Australian radio in the last 25 years.
2019 sees them returning to live gigs, including A Day On The Green with John Farnham, Daryl Braithwaite et al and summer dates with ICEHOUSE. A string of scheduled recording releases promises an exciting return for this iconic band.
Bachelor Girl is an Australian pop duo formed in 1992 by Tania Doko as vocalist and James Roche as musician, producer and arranger.
Their 1998 debut single "Buses and Trains" was a top 10 hit in Australia and New Zealand; it peaked in the top 30 in Sweden and charted in the United Kingdom.
"Buses and Trains" was also the most played track on Australian radio in 1998.
The follow up single "Treat Me Good" reached the top 40 in Australia and New Zealand.
Their debut studio album, "Waiting For The Day" was released in 1998 and reached the top 20 on the ARIA Albums Chart and achieved platinum certification.
In May 1999 their third single "Lucky Me" reached the top 50 in Australia and New Zealand.
In July 2002 Bachelor Girl released "I'm Just A Girl" as the lead single from their forthcoming second studio album. The song reached the Australian Top 30. Their second album "Dysfunctional" was released in August 2022 and peaked in the top 30.
"Drowning Not Waving" was released in October 2002 as the second and final single from the album.
The band recorded their third studio album in 2003-2004 but with the merger of their label BMG Music with Sony Music, was never released.
At that point Tania and James went their sperate ways which saw Tania moving to Stockholm and James moving to London.

Over the past 12 years, Tania has been living in the vibrant music scene of Stockholm, Sweden where she's been a solo artist, featured vocalist with DJs and international releases and full-time songwriter for outside projects. James has continued to base himself in Australia, writing and producing for various local and UK artists, TV and film.
2011 saw James and Tania release a Best Of Bachelor Girl record "Loved and Lost", including past hits and four previously unreleased tracks, alongside "Beautifully Wrong", an LP of unreleased demos.
These albums aside, it has been over 15 years since James and Tania released an entire original body of work.
In mid-2017, James spent 3 weeks in Stockholm Sweden where he met up with Tania and they wrote and recorded some new songs.
Roche said "I had a fantastic time; the context there of musical creation and endeavour is inspiring and energising. I've returned with a collection of songs I am so excited about - I can't wait to complete the production on them!".
Out of these song-writing sessions, came the new single "Speak".
"Speak" was released in July 2018 to coincide with the 20th anniversary of their Platinum hit "Buses and Trains" and their ARIA award winning debut album "Waiting For The Day".
Tania Doko is passionate about their new single, saying "I feel strongly that "Speak" is the first offering back for the band - personally, it's a wake-up call and hopefully a 3 minute 30 reminder out there that we're humans, not just hashtags."
James Roche concurs, "Imagine our world if we develop a group agreement that speaking the truth and acting with integrity is normal."
James and Tania's shared love of performing and writing has brought them back together after a 12 year hiatus. "We've gotten back together for the same reason we formed a band in the first place", says James Roche. "We just love making music together; and are so excited about the new songs. It feels better than ever."
Tania Doko adds, "I can admit, I didn't know how much I'd missed working with James until we performed at the Sydney Opera House Australia Day Concert, 2016 and it felt so good, we gotta do it again!"
Bachelor Girl was one of the biggest and most loved Australian acts of the 90's, standing out with their exceptional songwriting and Tania's warm and powerful vocal.
Discussing the new single, Tania says "The day we wrote 'Speak' in Stockholm, I wanted to reflect on a worrying trend: since the onset of the smart phone, there's been a global, dramatic spike in depression, especially among our young people. Not discounting that technology provides a voice for many, we face a conundrum. In this digital 'virtual' age, social media, data, algorithms and fake news often determine behaviour and self-esteem, leaving real conversation, human connection and truth itself frequently sacrificed. Whether it's sharing day to day goings on, or serious issues like abuse and bullying, no device can replace the value of real-life communication."
James adds "It is tempting to think that there are enough voices raised on issues such as sexual harassment and assault, gender equality, mental health, and integrity in the news and social media. But because these are key to who we will become as a people during this 21st century, they don't just need many voices, they need every voice. Bachelor Girl's song 'Speak' brings this to focus, encouraging that a personal unburdening of a deeply hidden, unspoken pain will bring a healing process to both the individual and all of us in society."
The duo undertook an extensive promotional tour in June 2018 to launch and promote "Speak".
At the same time they were also announced on the A Day on the Green bill with John Farnham, Daryl Braithwaite and Richard Marx. This tour is across late November and early December 2018.