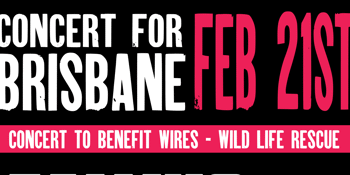 Crowbar Brisbane Presents
CONCERT FOR BRISBANE w/FALLING DOVES (USA)
Black Whiskey, Piston Fist,  For the Wolves, Rhino and more TBA
Crowbar Brisbane (Fortitude Valley, QLD)
Friday, 21 February 2020 7:00 PM
LOS ANGELES' FALLING DOVES TO START 2020 TOUR IN AUSTRALIA
Hollywood hard rockers FALLING DOVES will kick off their 2020 tour dates with their third visit to Australia.
Falling Doves have always loved Australia, and
on February 21
they are bringing their brand of rock'n'roll to Brisbane, alongside local heavyweights Piston Fist, Rhino and For The Wolves, for the start of a series of fundraising gigs, raising money for WIRES Wildlife Rescue.
It's been a long summer already, and it definitely ain't over yet, so please, dig deep and come along to Crowbar for a night of rock'n'roll to raise money to help the Aussie wildlife after these devastating fires.
$10 presale or $15 at the door
Feb 21
Crowbar Brisbane