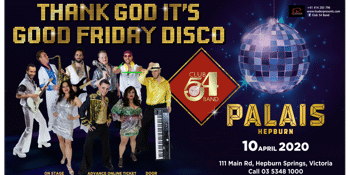 Palais-Hepburn
POSTPONED - Thank God its Good Friday Solid Gold Disco Show
Palais - Hepburn (Hepburn Springs, VIC)
Friday, 10 April 2020 7:00 PM
🔸Friday, April 10th, 2020.🔸Doors: 7pm. Show: 8pm
🔸Genre: Disco / Cabaret show
🔸General admission: $20
🔸Door: $25 ...
🔸Dinner (Moroccan Feast) and Show. $80 per head

Club 54 returns for more hyper-color cosmic disco mayhem.
Calling all creatures of the night, party mavens and super freaks.... Get ready to move your body baby, to dance all night...just feel the groove and you'll be alright!