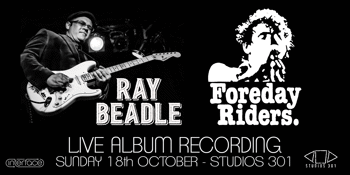 Interface Music, Code One & Studios 301
Ray Beadle & The Foreday Riders Live Album Recording
Live Stream from Studios 301 (Alexandria, NSW)
Sunday, 18 October 2020 3:00 PM
LIVE IN STUDIO EXPERIENCE
Ray Beadle & The Foreday Riders Live Album Recording - Very limited tickets are available to experience the concert live in Studio 301 with the band
Doors 3.00pm - Recording 4.00pm
RAY BEADLE
Ray's guitar and vocal styles evoke numerous blues legends, whilst concocting a breathtaking style all of his own.
It is not by chance that Ray has become a favorite amongst Australian blues and music fans.
An exhilarating guitarist, an enthralling singer-songwriter, and an extremely talented performer
, Ray was awarded Best Album, Best Song, and Best Male Artist in the Chain Blues Awards.
Ray Beadle is the genuine article, his music comes deep from the heart and soul, stirring emotions in people with his guitar genius. Ray's music is rich with a deep history of the Blues; Rich from 20 years of experiences garnered from performing Nationally and Internationally; and rich from a deep understanding of his instrument and how to make it stir something within the listener. He knows that's what the Blues is about.

Ray's life as a musician started when he was just 9, and for the next 20 years, Ray has played with and learnt from the best, including many years spent performing and recording with the Foreday Riders; (commonly referred to as the 'University of the Blues'). Ray has shared the stage with many great Australian and International artists and has thrilled countless festival audiences. A three month residency with the house band in BB King's Club in Memphis, as well as several Southern Blues festivals, were all defining moments during Ray's three tours to the USA.
Following his return from Memphis USA where he placed top 8 in the prestigious
International Blues Challenge, Sydney-based award-winning guitarist Ray Beadle released his first album in 7 years in the form of The 301 Live Session. Featuring Ray Beadle on guitar & vocals, Jonathan Zwartz on double bass and Andrew Dickeson on snare & brushes, The 301 Live Session saw the trio hit Studios 301 in March 2020 to record the 9-track album. Recorded and produced by Stefan Du Rant, mastered by 301's Steve Smart and executively produced by Geoff Trio & Ron Haryanto, the result is a slick collection of selected Beadle originals and legendary blues numbers (covering the likes of Robert Johnson, J.B. Lenoir, Louis Jordan, L.J. Welch, Joseph Perkins Greene, Muddy Waters and J. Smith).
FOREDAY RIDERS
Often cited as Sydney's "university of the blues", the Foreday Riders celebrate 47 years as a working band in 2014, and despite countless line - up changes, 2 original members from 1967 remain: the King Brothers, Ron (harmonica, vocals) and Jeff (guitar, Dobro) who continue as happy 'backroom boys' in the current outfit. The rhythm section is also highly durable: Rosscoe 'Stinger' Clark (drums) has been a Rider since 1982, and as a maste r shuffle player has worked with the Cyril B Bunter band, Ray Beadle, Bridie King, Darren Jack and Alison Penney among others – he's decidedly the go - to guy for blues drumming in Sydney; Stan 'Sleepy' Mobbs has been on bass with the Riders since 1990 and u nderpins the band with the smooth, swinging yet rock - solid feels essential to electric blues. The front man of the Riders can vary from gig to gig, and at present the band has teamed up with long - time associate Shane Pacey, of Bondi Cigars fame. Shane fr onted the band occasionally in the latter 1980s and has stayed in touch ever since; his intense vocals, attacking guitar style and superior song - writing abilities make him an asset to any band, and his presence adds an extra edge to the Riders' sound.
Highlights in the band's history include: support acts with B.B.King; Sonny Terry and Brownie McGhee; Freddie King and Hound Dog Taylor, Gatemouth Brown, the "Delta Blues Legends" show, Chris Cain and others. The Riders have backed Bo Diddley in Sydney, a nd were joined on stage by Junior Wells during his 1972 tour. In 1975 the Riders were part of the "History of the Blues" concert tour which included Dutch Tilders, Judy Bailey and Margaret Roadknight. Other names associated with the band are Jeannie Lewi s and Broderick Smith, and former Riders have moved into major local blues acts such as the Bondi Cigars and The Hippos. Apart from appearing at Sunbury in 1975, the Riders played at the now legendary Alice Springs Blues Festival in 1986, along with Chain , Renee Geyer, Kevin Borich, Ian Moss and others. More recent festival appearances include the East Coast Blues Festival at Byron Bay, the Lithgow, Goulburn and Thredbo Blues Festivals, and the Wangaratta, Manly and Hawksbury Jazz Festivals.
In 1996 th e Riders were awarded the inaugural Hall of Fame Award at the Lithgow Blues Festival and in following years received the Chain Heritage award at Goulburn (and were later inducted into the Hall of Fame), the 2MBS - FM Stormy Monday Lifetime Achievement award, and the Sydney Blues Society "Services to the Blues" Award. The Riders were also included in a series of blues concerts at the Sydney Opera House in 1999, "Sundays 'round the House", with Mal Eastick, The Mighty Reapers and Matt Walker. Throughout the b and's history, the King Brothers have been privileged to work with an imposing array of leading Australian blues performers, and hope to continue doing so, always aiming to see audiences have as much fun as the band