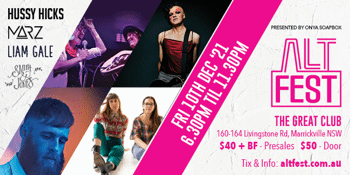 Altfest 2021
The Great Club (Marrickville, NSW)
Friday, 10 December 2021 6:30 pm
Altfest is a celebration of alternative and diverse music at its best. Delivering artists who don't subscribe to being defined by a single genre of music – instead blurring and pushing artistic and creative boundaries.

At The Great Club on Dec 10th catch this amazing 2021 AltFest line-up:

HUSSY HICKS

Critically acclaimed Australian act, Hussy Hicks are a tour de force featuring Leesa Gentz' powerhouse soul vocals and Julz Parker's revered guitar skills. Prolific and accomplished musicians, Hussy Hicks have honed their sonic dexterity over the past 12 years with six studio albums, multiple industry awards and more than 1,000 live shows under their belts, from Australia's biggest blues, roots and folk festivals to 15 plus international tours, which now sell out across Europe.

Known for their emotive lyricism, energetic live shows and fiery, frenetic instrumentation, it's no surprise Hussy Hicks have staying power.

"Some artists need to be seen to be believed, and Hussy Hicks fit that category." - Sarah Howells, Double J

"A not to be missed act that are ready for the world." - Peter Noble, Bluesfest Director

Hussy Hicks Website
Hussy Hicks Facebook


MARZ
Stealing the jagged hooks of rock, indie and the cheap thrill of pop, Marz meditates on ideas as varied as the paranoia of the city and also the distance that can develop between people that were once very close. Delivering a taut, focused and sinewy rock sound devoid of excess, MARZ draws on rock royalty like The Angels and AC/DC but tempers this with melodic flourishes harking back to the masters of 60s folk. Rock is back. Marz is leading the charge.

"The four-piece's brand of pop-pub-rock lands somewhere between the alternative rock of Placebo, the balladry of The Whitlams and a hint of grunge not too dissimilar to Bush. Marz himself was presented in a phenomenal Dr Frank-N-Furter inspired outfit. The new single Horrorhead is an uppercut of punchy rock that motivated the audience impeccably; an act to lookout for as it feels like there is something brewing here which will grab the attention of enthusiasts on quite a large scale."
- GlamAdelaide

www.marzguitar.com
www.facebook.com/marzguitar



SMITH & JONES
Smith & Jones, a duo from Bathurst, made up of keyboard player and vocalist Abby Smith, with guitarist and vocalist Sophie Jones, have never been ones to follow the pack. Though classified as alt-country, their goal has never been to remain within the confines of any genre, preferring to let their sound and their songs take them where they will.

Since their very first meeting, Smith & Jones have toured extensively, with their live shows at the heart of their partnership. 2021 is already filling up with gigs, as well as new recorded work which looks set to further their reputation as a duo worthy of both their reputation as a live act, and their sensitivity and skill as songwriters and recording artists.

Smith & Jones will be playing as a full 5 piece band for AltFest.

www.smithandjones.net
https://www.facebook.com/SmithandJones.music/

LIAM GALE
Smoky voiced and nimble fingered, Liam Gale sings folk tunes and blues ballads about love and sex. Be it in bedrooms or on festival stages, his sentimental music sways romantics and deviants alike.
A sharp guitarist with an undeniable pop sensibility, Liam Gale fuses the familiarity of myth and fable with the poetry of his own queer narrative. Witty, intelligent and playful, his songwriting delivers blow after blow of triumph and tragedy, melodrama and melancholy.
"Gravitas and turmoil seep from this... it twists and turns through the sumptuous darkness."
- Nkechi Anele, Triple J
www.facebook.com/liamgalemusic
Doors at 6.30 pm with our kitchen Girls Gotta Eatery open for dinner and snacks - full menu available
here