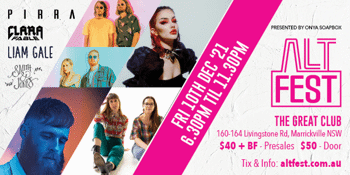 Altfest 2021
The Great Club (Marrickville, NSW)
Friday, 10 December 2021 6:30 PM
Altfest is a celebration of alternative and diverse music at its best. Delivering artists who don't subscribe to being defined by a single genre of music – instead blurring and pushing artistic and creative boundaries.

At The Great Club on Dec 10th catch this amazing 2021 AltFest line-up:

PIRRA
The Pirra sound is a unique genre bending blend of slinky electro, new wave and dance mixed with indie pop rock stylings.
Their lyrics combine cutting and funny observations of life and love in the modern world. Pirra's live sound is a mix of live instrumentation (guitars, drums, vocals and bass) combined with washes of synth and programmed sounds to make a rich, catchy and seductive blend of modern pop.
Pirra Website
Pirra Facebook


CLARA FABLE
Clara Fable's live performance is a cheeky, unpredictable and camp exploration of horror, pop and things that go bump in the night - channelling Tim Curry, Joan Jett + Lady Gaga, unabashed and unapologetic, there's only one Clara Fable and this dynamic performer is one you won't soon forget
"Clara is incredible, she's been on for 3 seconds and I want her every week." - GAYM Entertainment
"Clara is incredible; she has everything it takes to be a big star." - Dean Ormston, APRA CEO
SMITH & JONES
Smith & Jones, a duo from Bathurst, made up of keyboard player and vocalist Abby Smith, with guitarist and vocalist Sophie Jones, have never been ones to follow the pack. Though classified as alt-country, their goal has never been to remain within the confines of any genre, preferring to let their sound and their songs take them where they will.

Since their very first meeting, Smith & Jones have toured extensively, with their live shows at the heart of their partnership. 2021 is already filling up with gigs, as well as new recorded work which looks set to further their reputation as a duo worthy of both their reputation as a live act, and their sensitivity and skill as songwriters and recording artists.

Smith & Jones will be playing as a full 5 piece band for AltFest.

www.smithandjones.net
https://www.facebook.com/SmithandJones.music/
LIAM GALE
Smoky voiced and nimble fingered, Liam Gale sings folk tunes and blues ballads about love and sex. Be it in bedrooms or on festival stages, his sentimental music sways romantics and deviants alike.
A sharp guitarist with an undeniable pop sensibility, Liam Gale fuses the familiarity of myth and fable with the poetry of his own queer narrative. Witty, intelligent and playful, his songwriting delivers blow after blow of triumph and tragedy, melodrama and melancholy.
"Gravitas and turmoil seep from this... it twists and turns through the sumptuous darkness."
- Nkechi Anele, Triple J
www.facebook.com/liamgalemusic
Doors at 6.30 pm with our kitchen Girls Gotta Eatery open for dinner and snacks - Book a table
here