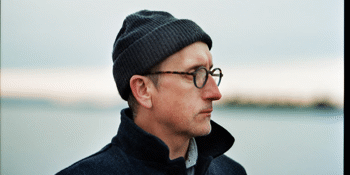 ROOM40 + Andrew Tuttle present
Chuck Johnson (USA)
with Andrew Tuttle
The Junk Bar's Skukum Lounge (Ashgrove, QLD)
Wednesday, 23 January 2019 7:00 PM
Touring in Australia for the first time in 2019 as a guest of Sydney Festival, American pedal steel guitarist/lush synthesist Chuck Johnson makes a special detour to Brisbane for his only Australian headline performance.
Chuck Johnson is a composer and pedal steel/steel string guitarist residing in Oakland, CA.
Johnson's pedal steel guitar pieces, most recently collected on Balsams (VDSQ, 2017), are awash in layers of tonal perfection. Johnson has released several instrumental guitar LPs over the last five years on labels like Three Lobed and Trouble in Mind. His festival appearances have includes Hopscotch Music Festival, Noise Pop, Liverpool Festival of Psychedelia and the San Francisco International Film Festival. Johnson's credits as a film composer include scores for the HBO documentary Private Violence and the popular PBS show A Chef's Life.
He approaches his work with an ear towards finding faults and instabilities that might reveal latent beauty, with a focus on guitar, electronics, minimalism and soundtrack composition.
"There is both a translation and a transformation of Johnson's unique style, heard in the restorative pull of the steel strings and the melodies elongated by low-end drones and throbs." -- NPR
"Johnson's hypnotic music conjures cinematic landscapes as strong as those evoked by Stars of the Lid or Flying Saucer Attack, but his guitar's gentle twang sounds more like a desert with wafting tumbleweeds than a sky with drifting clouds." – Pitchfork
Andrew Tuttle is a best-kept secret of the Australian underground. A composer, improviser and collaborator who has shared stages with Matmos, Julia Holter, Forest Swords, Steve Gunn, OM, Deradoorian and many others, a world traveler and artist in residence; his music lilting, elegant and delicate – the sound of joy and imagination. Performing with banjo, acoustic guitar and electronics; Andrew Tuttle makes outsider music that turns its listeners into insiders — beckoning a journey inwards which unfolds many heart-opening moments along the way.
Following on from a 16 date European tour supporting Ryley Walker (USA) in late 2018, this show is Tuttle's first Brisbane show for six months and is a rare audio/visual hometown performance.