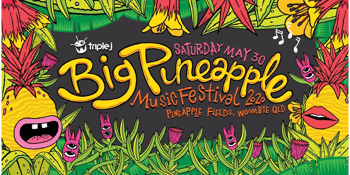 Triple J presents
Big Pineapple Music Festival 2020
Featuring: HILLTOP HOODS, ALISON WONDERLAND, THE AMITY AFFLICTION, DUNE RATS & more
Big Pineapple Fields (Woombye, QLD)
Saturday, 21 November 2020 11:00 AM
THIS EVENT ON SAT 30/05/2020 HAS BEEN RESCHEDULED TO SAT 21/11/2020.

BIG PINEAPPLE MUSIC FESTIVAL 2020 - Lineup Announcement
For my people in the front. In the nosebleed section.
The Sunshine Coast's fave fest is back! On Saturday 21 November, Big Pineapple Music Festival will once again transform Pineapple Fields, Woombye QLD into your very own party paradise, with one helluva 2020 crew providing the ultimate soundtrack!
From trailblazing legends of Aussie hip hop and the country's reigning queen of dance beats playing her only 2020 Australian show, to our most beloved ratbag rockers (currently sitting at #1 on the ARIA Album Chart!) and three top ten artists from this year's triple j Hottest 100… message your mates right now, dust off your camping kit and start prepping a juicy weekend vacay at the Sunny Coast.
HILLTOP HOODS
ALISON WONDERLAND (Only 2020 Aus Show)
THE AMITY AFFLICTION · DUNE RATS · EXAMPLE (UK) · G FLIP
KINGSWOOD · ODETTE · THELMA PLUM · WINSTON SURFSHIRT
KWAME · CXLOE · JESSB (NZ) · NYXEN · KYLE LIONHART · BOOTLEG RASCAL
A SWAYZE & THE GHOSTS · ROLAND TINGS · DEATH BY DENIM
JAWBREAKERS · GOLD MEMBER · MADY MOODA · JACK BOTTS
THE JENSENS · FIRST BEIGE · FORREST RUN · TRIPLE J UNEARTHED WINNER
PLUS...
FRI NIGHT NOV 19 | CAMPGROUND PINEAPPLE PARTY
SILENT DISCO FEATURING GO FREEK · PACES · JAWBREAKERS · BONFIRE
BOOTLEG RASCAL · KYLE LIONHART · JACK BOTTS & APPROACHABLE MEMBERS OF YOUR LOCAL COMMUNITY
Big Pineapple Music Festival will again be a 100% park and ride event. That means there is no parking, drop offs or pick ups permitted at the festival. Catching the bus is the most efficient way to get to and from the festival and at just $7.50 + BF it's also great value. Stay tuned for more info!